Given the world is once again (or still…) topsy-turvy, I thought I'd give you a taster of my November newsletter.
Greetings from Africa!
For those of you with friends and family on distant shores, you'll know that red list restrictions made seeing family difficult; so as soon as those were lifted I made plans to get to South Africa.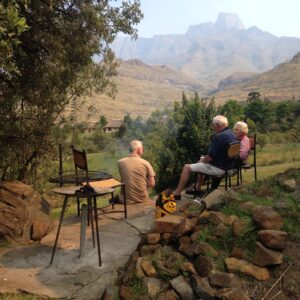 My November newsletter comes to from Johannesburg, written in the peace of the early morning, having had a very early morning walk – sunrise is at 5am – and before the heat of the day kicks in.
I do enjoy this picture of Dave and my parents in Drakensberg, South Africa, in September 2016, when at the age of 89, they were still enjoying their walking in the mountains.
November and December are the busiest months in a framer's workshop, and I'm in Africa. It occurs to me as I hear people planning and getting anxious about Christmas: what is it we prioritise in our lives?
Would beans on toast make it any less a feast, when we can be with people we love? As we move to Christmas, what's more important; the turkey, the gifts, the worries or making memories to talk about and share? My wish for us all is to learn to live in the moment. I hope you are able to find the time to do that.
This month's newsletter is a brief update from the workshop, making memories and plans for the months ahead, and, dare I say it, thoughts of 2022.
 News from the Workshop
What a fabulous and busy month October was.
Teaching at the Local College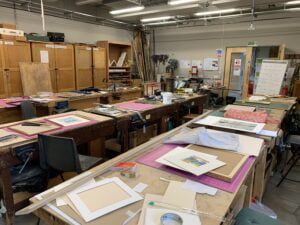 Teaching included a very busy 3-day workshop at Richmond Community College (RHACC), where we work with hobby equipment, and the students share tools and work and learn together.
It's a very social environment.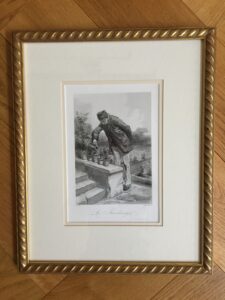 We don't cover as many techniques in the course as we can in a one-to-one setting, even so, it's fun and the students take home amazing pieces.
We've been lucky to be given lovely ornate wood from framers clearing out old stock and so the results are unexpected and delightful.
Unexpected – because students often come in with a plain black frame in mind and go home with something quite different.
Here is one example done by a student at RHACC on the 3-day Introduction to Framing course. Her piece has a double mount and she used a lovely gold frame.
River Crane Framing Workshops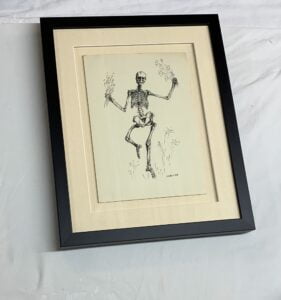 There was also fun to be had in the River Crane Framing workshop, with quite a few students joining me for one-to-one training. Some came to extend their skills, and others started from scratch, spending a morning, a day or even a few days.
The Profitable Picture Framer online workshop was also on the schedule, running online in the evenings.
Framing for Christmas
As I am out of the country, and due to recent travel restrictions, I am unable to help you with framing gifts this year. I do hope you understand, and I look forward to doing business with you in 2022.
Christmas voucher reminder
A one-day framing workshop voucher can offer an experience to look forward to and remember… You can buy a voucher for a 1-1 day of framing day to share and or the luxury of a one-to-one day of framing.
Some Tips for You
making memories last…
I'm here in South Africa visiting friends and family, but the primary reason is to spend time with my parents who are well into their 90's.
Mum has reasonably advanced Alzheimer's which means her world has shrunk to the confines of her childhood memories and a few others, which still burn strong.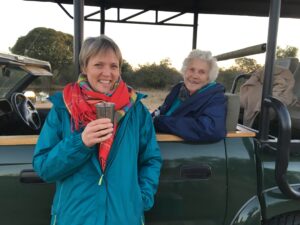 Some that seem to be etched clearly are memories of Dave making pancakes for breakfast, memories of walking in the mountains and of songs we sang as we hiked when I was a child.
Over the years the gifts that I have brought from the UK have been things I have made; crocheted knee rugs, framed canvases of photos taken on holidays together, and a collection of photo books. While all the other memories are gone, these are the things she touches and holds and talks about.
When I hear stories of concerns about whether the turkey will be the right size this year, or even if there'll be a turkey, it occurs to me that mum doesn't remember turkey dinners (yes, bizarrely, we did turkey Christmases here in South Africa when I was growing up).
I hear of concerns of what gifts to buy and the panic of what will or won't be in-store. My suggestion is find something that will remind you of times past and make memories to cherish.
Make celebrations simple and fun, if you make them different and quirky (beans on toast?) – it may become the celebration you remember and talk about for years to come!
My advice to you?
Though I can't help you with frames this year, you can still buy a frame and add that photograph of a fabulous holiday or occasion spent with people you want to remember.
Framer's Corner
I'm planning on doing a wide selection of short online and in-person courses next year.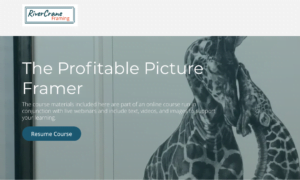 If you have any questions about framing courses, either:
• add your name to the waitlist for next year's courses
• contact me to schedule a date for in-person workshops
I look forward to seeing you all again soon, have a very fine month.
Enjoy the wonderful scents of the festive season, may you be entranced by the Christmas lights, the lovely misty mornings and sense of excitement for the months to come.
Kind regards,
Sue
PS:  Latest Update:  Since writing and sending out this letter, a new variant of Covid-19 has emerged and flights from South Africa have once again been hit by restrictions.  We will isolate in a hotel on our return and I hope to see you at some point in 2022.